Due to the ongoing Coronavirus (COVID-19) pandemic, and significant restrictions in place around gatherings and travel, our "Be A Pineapple" Guinness World Record attempt, our "Reef 2 Water" JetSki Trek and our Blue Bottle Gala Dinner have all been postponed until it is safe to proceed. Please watch this space for further updates - Blue Bottle will be back BIGGER and BETTER than ever just as soon as we can!! 
Messages of Love to Alana
At Alana's Celebration of Life, her friends and family wrote messages of love on paper decorated with pineapples, that we put into a pretty little blue bottle. Together we sealed the bottle as best we could, and then we threw it into the ocean off Long Reef Headland NSW. Long Reef was one of Alana's favourite places.
We dreamt and hoped that our little blue bottle would eventually wash-up in a beautiful place, somewhere in the world …..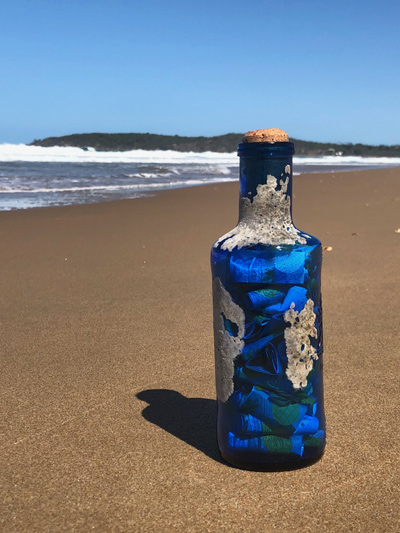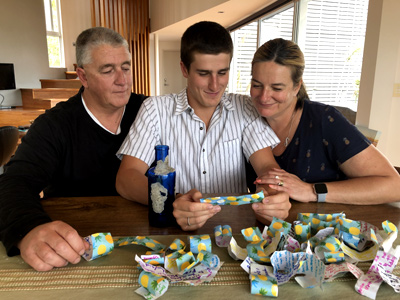 Twelve months later, exactly one year after being told by doctors that there was nothing more they could do for Alana, and four days before the first anniversary of her passing, we received a call from a family in Agnes Water QLD to say that they had found Alana's message-in-a-bottle. They found it covered in barnacles but completely intact, on the beach directly in front of Agnes Water Surf Club!! The middle name of the lady who found the bottle is Alana!!
This incredible miracle has given us reassurance that Alana is OK and is always with us. A little sunshine has returned to our lives.
Now our family and friends, together with our new friends in Agnes Water, are determined to help fund medical research to find better treatment options and a cure for all childhood cancers, so that other kids have a better chance of survival.
We are also determined to keep our Alana's memory alive.
….. and that's how our Blue Bottle fundraising effort has come about!!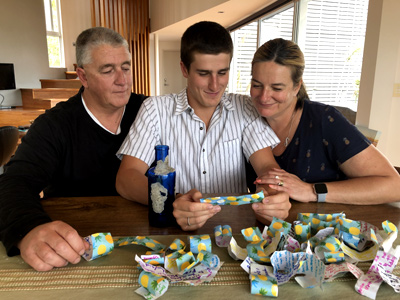 The Project "Message in a Bottle" story
Our miracle "Message in a Bottle" story was featured on Channel Ten's The Project on 14 October 2019, and again on 3 January 2020 as one of their 2019 favourites. To date there has been more than 350,000 views on social media, and hundreds of amazing comments from people across the world who have been touched by our story. 
Thank you to the Producers, Anthony and Rowan, for telling our story with such respect and integrity.